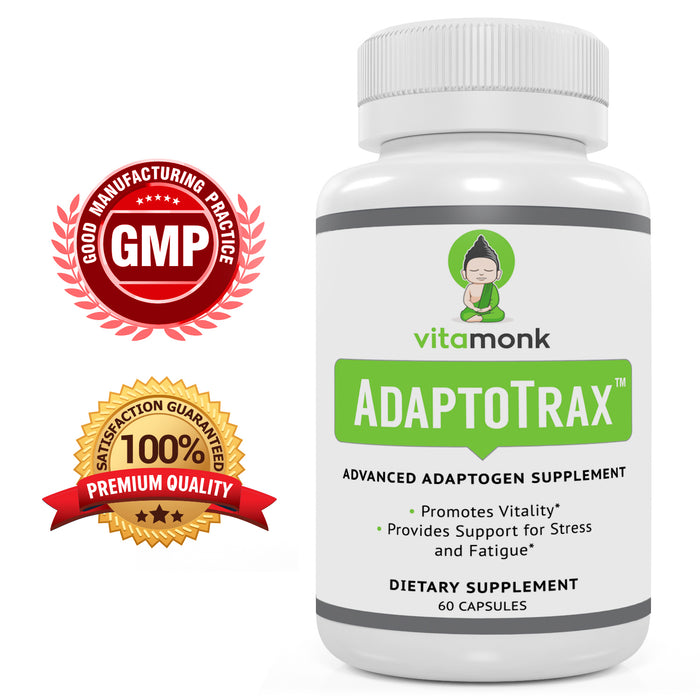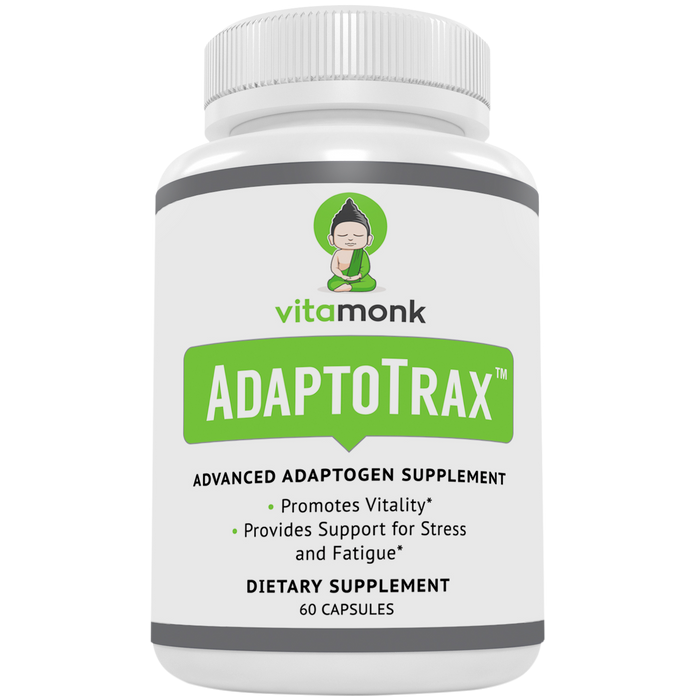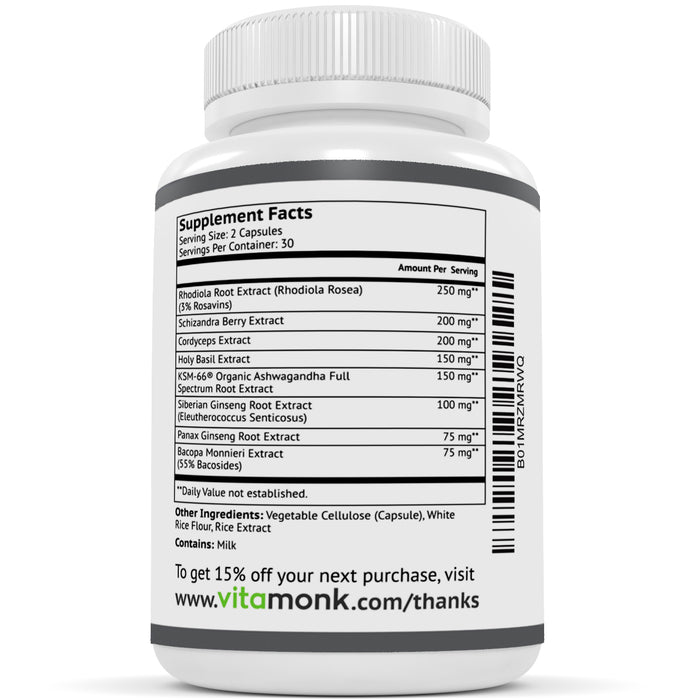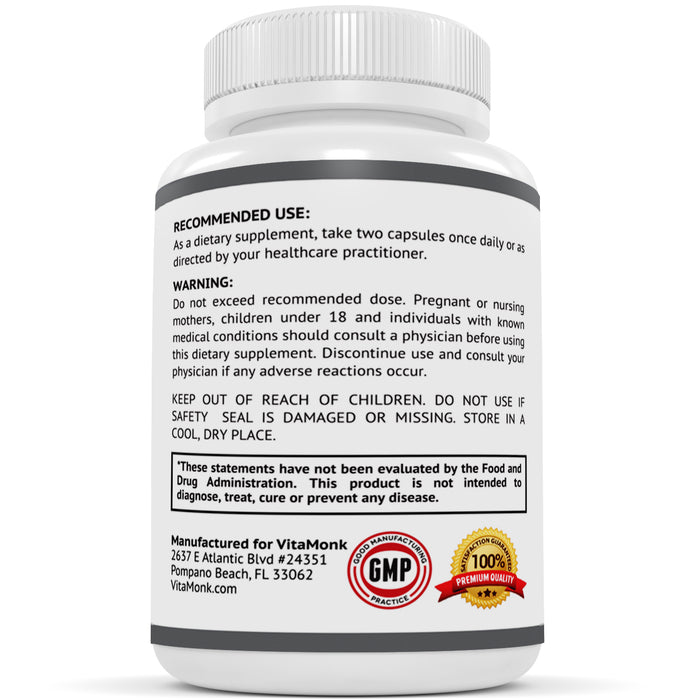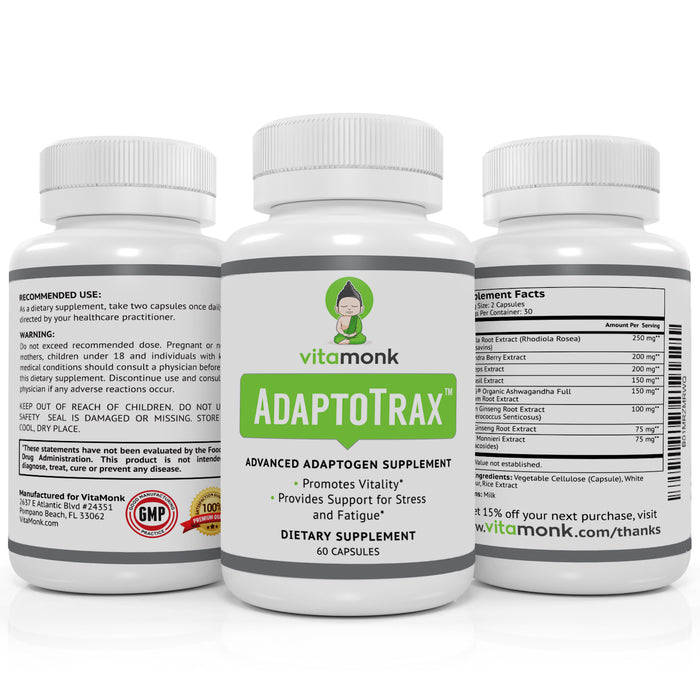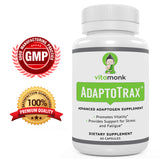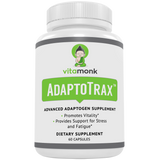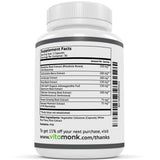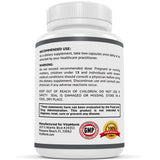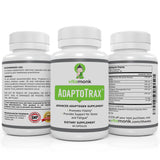 AdaptoTrax
All-In-One Adaptogen Supplement For Optimal Mood, Stress Management, Energy, and Brain Power
Description
Adaptotrax is for anyone wanting to reach their cognitive and physical peak. This is the only complete adaptogenic formula for cognition, energy, mood, stress management, and endurance. Our high-potency formula includes scientifically tested adaptogens (also known as brain food) that support:
Healthy social function (even with social anxiety)
Fast acting stress management (especially during high stress situations)
Day-long energy and vitality
Cognitive enhancement - memory, learning, problem solving
Athletic endurance for better gym sessions
AdaptoTrax contains ideal doses of the same "super supplements" that athletes, neurohackers, overworked professionals, and exhausted students use to say sharp, alert, and calm under extreme stress. Some even claim that they've helped reactivate certain systems in their brains that helped them feel as good as they once did. And unlike stimulants or drugs, AdaptoTrax comes with NO SIDE EFFECTS.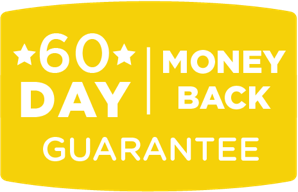 60 Day Money-Back Guarantee
We are so confident that you'll love this product that it comes with a 100% money back guarantee. If for any reason you're not completely satisfied with this supplement after using it, just let us know.
Scientific References & Further Reading
Remain Calm, Act Natural, and Stay Sharp With 100% Pure Brain Food
AdaptoTrax optimizes your life by helping you manage the stress, anxiety, and mental fatigue holding you back. Adaptogens are widely known as "super supplements" or "brain boosters" that promote healthy cognitive function. AdaptoTrax is made with the same ingredients that have helped everyone from athletes to doctors manage stress and enhance endurance even under extreme duress. This formula has been specifically designed to help:
People with social anxiety
Overworked students or professionals
People with general stress who need help managing it
Anyone who needs a fast, long-lasting brain boost
Each ingredient in AdaptoTrax has clinically shown to support cognition (memory, learning), stress and anxiety management, or energy and vitality. Science has is starting to prove what the ancients have known for millennia: Adaptogens work! And thousands swear that these herbs have helped them feel calmer and sharper even if they have anxiety.
The Only All-In-One Formula With Next-Level Adaptogenic Support
AdaptoTrax is adaptogenics elevated. This is the only all-in-one supplement specifically engineered to support the mind, body, and athletic performance with all of the clinically tested adaptogenic herbs in their optimal dosage. This formula is the pinnacle of precision, with precisely calculated amounts of:
Brain boosters
Memory enhancers
Energy producers
Stress managers
Athletic endurance supporters
Instead of just one adaptogens or a few combined, AdaptoTrax contains all of the most potent adaptogens along with clinically tested support herbs not found in most mixtures (Cordyceps, Holy Basil). This gives AdaptoTrax more potency than any other formula on the market.
Reach Your Mental and Physical Peak
Adaptogens have shown to possess powerful anti-fatigue properties, leading many to call them an athlete's "secret weapon" in the pursuit of their athletic peak. The clean energy and endurance support of AdaptoTrax helps you push harder in the gym, run harder on the track, and get back to it faster by aiding recovery. This creates a synergy between body and mind that helps you level up your life. A sound mind and healthy body will finally create that "next-level" you that so many desire.
AdaptoTrax: All-In-One Brain Booster and Performance Enhancer
AdaptoTrax is the first all-in-one adaptogenic supplement of its kind. This potent formula is designed to give your mind and body a fast, sustained boost so you can thrive under pressure, stay calm during social situations, and perform your best when it matters most.
Science has shown that you don't have to live a life ruled by anxiety, stress, and brain fog. With the right balance of medical treatment, diet, and nutritional supplementation, you can successfully manage these conditions and start living a fuller, happier life. One where YOU are in control and not your haywire stress response system. Each of the ingredients in AdaptoTrax has demonstrated clear and positive effects in lab for stress management, mental clarity, memory, focus, and energy. And many have done so in human trials (not just animals). There's fascinating scientific evidence that adaptogens can even change your physiology down to a molecular level [1]! We'll get to groundbreaking formula that has helped so many in our community take back their lives, but first let's cover the basics:
What Are Adaptogens?
Adaptogens are herbs or plants that help your body achieve homeostasis (balance) when there is an imbalance. They are "non-specific" stress resistors that your body drafts into combat whenever things are a bit off. Think of them like your stress-fighting NATO Peacekeeping Force: They stand in reserve until needed, then your body sends them to wherever they need to keep the peace and bring balance to your body. That's what makes adaptogens so remarkable - instead of using drugs to reduce stress, adaptogens naturally optimize your stress response system to make you more stress resistant. So instead of becoming reliant on drugs, adaptogens make you better at managing stress and anxiety. Yes, this is YOU taking control of your life.
Our Mission
AdaptoTrax is the result of our mission to create an all-in-one adaptogenic supplement not only provided benefits to our community, but also reduced costs and saved time. If you're reading this, you're probably suffering from the same things we once did: Social anxiety, unexplained shyness, stress, and adrenal fatigue. It seeped into every facet our lives and prevented us from living how we knew we could. When we discovered the power of adaptogens, we quickly ran into a roadblock: You need the optimal dose of each herb to get real results, but that's just not feasible in modern day life. We didn't have the time to boil tea, cook with herbs, and manage multiple supplements, let alone go shopping for everything! We knew there had to be a better way, so we set out to create one supplement with all of the most potent adaptogens in their optimal dosage. AdaptoTrax is the result of that mission and years of diligent research and experimentation.
This is the most complete and effective adaptogenic formula on the market….
We've even included brain-boosting adaptogens that most formulas leave out! Just 2 capsules is enough to support everything from memory to gym sessions and beyond:
Ashwagandha: Known as the King of Ayurvedic herb, Ashwagandha is one of the most well-researched and scientifically proven adaptogens for stress and anxiety management. Fascinating trials have shown its efficacy in reducing cortisol (the hormone that causes stress) and improving well-being [2]. In fact, the majority of anti-stress supplements contain Ashwagandha as their main ingredient. It can even help improve your gym results [3].
Rhodiola Rosea: A favorite of stressed students and overworked professionals, Rhodiola Rosea has remarkable powers to help keep you alert, focused, and energetic even under stressful conditions. Supplementation with RR has improved test scores [4] in students and mental fatigue in physicians working the night shift [5].
Schizandra Berry: A powerful stress management and anti-fatigue supplement, Schizandra has demonstrated the ability to suppress your stress response and improve mental performance under stress [6].
Cordyceps: This fungus from the Sikkim region of India has been taken for thousands of years for its pro-vitality benefits. Its clinical health effects range from anti-oxidants to cardiovascular and immune system optimization [7].
Holy Basil: This delicious spice has shown to support immune health [8] and healthy muscle function [9].
Siberian & Panax Ginseng: These two forms of ginseng are anti-oxidant powerhouses, and adaptogenic super supplements. Together, they form a potent combo with benefits ranging from healthy social function [10] to healthy aging [11].
Bacopa Monnieri: If you could only take one supplement for memory enhancement and cognition, it would be Bacopa. Years of research have shown its efficacy for supporting attention and memory as well as stress management [12].
Are you ready to reach your mental and physical peak? AdaptoTrax can take you there. Our
adaptogen supplements
are also available on Amazon.
References
https://www.ncbi.nlm.nih.gov/pubmed/11895046
https://www.ncbi.nlm.nih.gov/pubmed/18611150