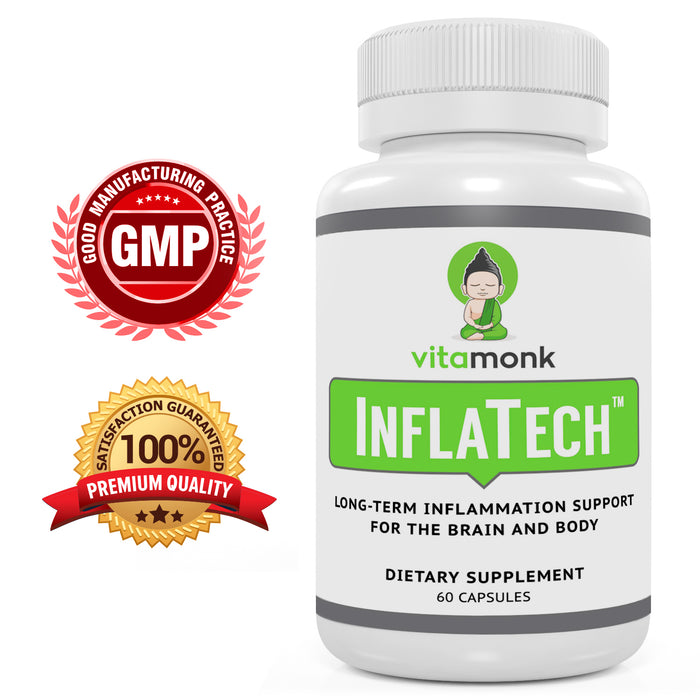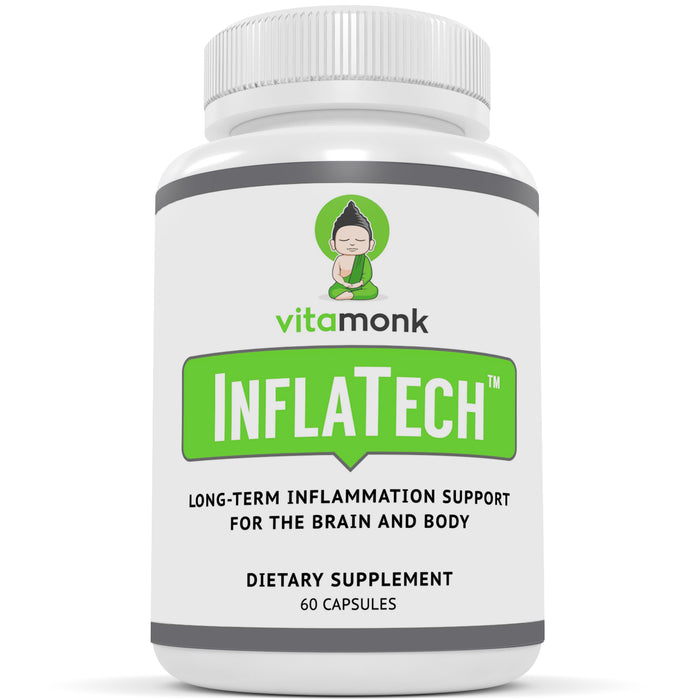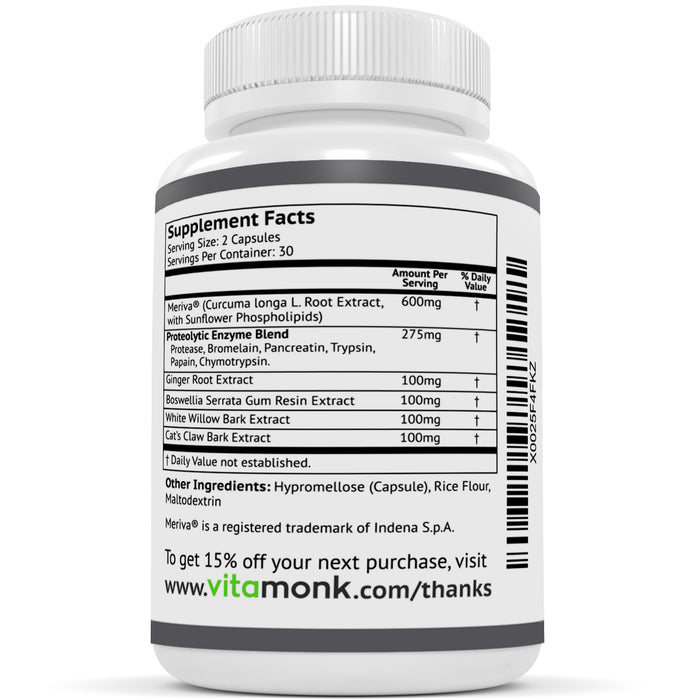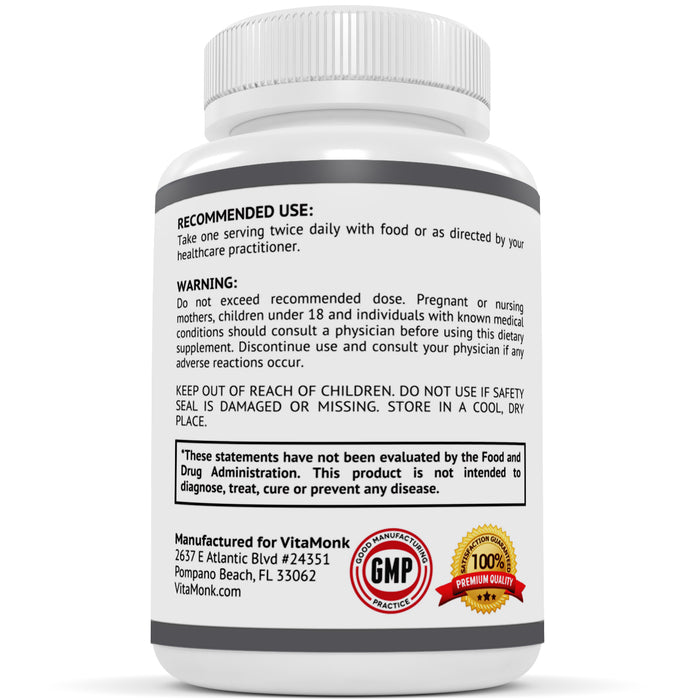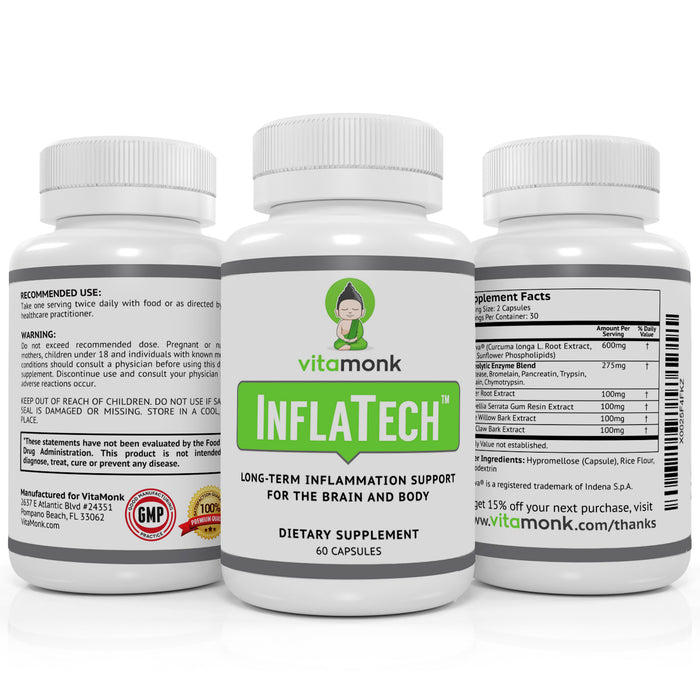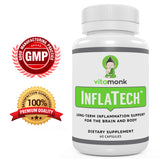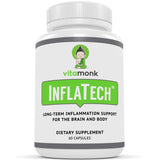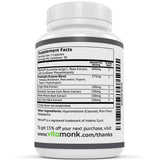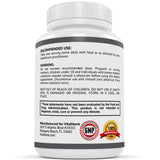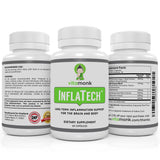 InflaTech™ Whole Body Anti Inflammation Supplement
60 Capsules
Description
InflaTech - Long-Term Anti-Inflammatory Supplement
InflaTech is the answer for long-term anti-inflammatory support even if you typically suffer from irritating side effects of a poor inflammatory response. If you've tried supplement after supplement only to see no results, InflaTech's formula is the supplement you've been searching for. 
Unlike the majority of inflammation supplements that are made with turmeric, a substance known to have low-bioavailability, our natural anti-inflammatory is made with Meriva curcumin, a potent natural inflammation supplement with up to 29x MORE ABSORPTION. That's 29 times MORE SUPPORT FOR:
A health inflammatory response
A regular immune response
Healthy bones and joints
A healthy, youthful mind and body
Science has shown Meriva to be more potent and effective at supporting both the mind and the body, so why waste your time on other anti-inflammation supplements that have shown to be less effective?
Our potent combination of natural anti-aging, anti-inflammatory, and healthy gut herbs is an all-natural formula shown to get results. Many in our community have reported healthier joints and enhanced cognition and energy in just a few weeks or less. That's the power of Meriva SF curcumin supplementation.
-------------------
Finally, a Supplement That Brings Relief
The modern world is designed to send your inflammatory response haywire. While short-term inflammation is beneficial to your health, chronic inflammation can lead to a series of health problems. 
Most natural supplements for inflammation rely on added substances to boost availability. This diminishes potency and reduces effectiveness. Not InflaTech. This is the combination of nature's best anti-inflammatory supplements and the latest technology and science. This combination fights the root causes of your poor inflammatory response, giving your body the nutrients it needs to support healthy inflammation levels.
Science has shown Meriva to be up to 29x MORE POTENT than turmeric. That's 29x more support for joints, mind, and body. The combination of natural herbs and potent anti-inflammatory support means relief where so many other supplements have failed.
Protect What Matters Most
InflaTech is the first supplement of its kind: an all-natural inflammation supplement made with curcumin phytosome that's designed to protect your most valuable asset - the mind. This isn't a miracle "anti-aging" cure. This isn't a short-term pain killer. This is real, long-term support for a healthy mind.
By supporting a healthy inflammatory response, InflaTech helps keep your mind sharp and fresh even years past your peak. This formula is designed to give your body the nutrients it needs and added antioxidant support to help promote a healthy mind even in the face of increased external risk factors.
Restore Order to Your Gut
Anyone living with symptoms of a poor inflammatory response knows what that means for the stomach. The awkward trips to the bathroom. Leaving parties early. Living in constant fear that your gut will ruin your day.
We know because we've lived it. That's why we've incorporated nature's best gut inflammation supplements into our formula - so you can live a healthy, normal life. By supporting a healthy inflammatory response, you give your body the nutrients it needs to regulate its response and help balance your gut's behavior.
Anecdotal evidence and reports from our community have shown that InflaTech has remarkable abilities for helping promote balance where it's needed most.
----------------------
InflaTech - Where Science Meets Natural Anti-Inflammatory Support
InflaTech lies at the intersection of science and nature. The combination of potent natural supplements for inflammation and targeted science has helped our team create the best anti-inflammatory supplement on the market for long-term brain and body support.
Where most other natural anti-inflammatory supplements fail, InflaTech is designed to succeed with precision:
Stronger:

InflaTech is made with curcumin phytosome with Meriva SF. This leading edge supplement represents the latest scientific understanding of your inflammatory response works. The sustained-release formula keeps your blood levels functioning at their optimal levels for enhanced maintenance of your body's immune response. InflaTech contains far more Meriva SF than most competitors.
More Available:

Most anti-inflammation supplements are made with turmeric, which is so poorly absorbed by the body that pepperine is needed just so your body can utilize the curcumin. Not InflaTech. Our Meriva SF curcumin formula is 29 TIMES MORE ABSORBABLE. There's no other supplement that rivals the bioavailability of InflaTech. Not even close.
More Complete:

Our Meriva supplement is the ultimate combination of gut health, long-term cognitive support, anti-oxidant, and healthy bone support. Just one dose is enough to help balance your gut, support long-term cognitive health, and promote a healthy inflammatory response. You don't get that with any other supplement.
And the best part? We've formulated InflaTech with ingredients that are easy on the stomach, so side effects are minimalized. In fact, our community has hardly reported anything at all, even if they've routinely suffered side effects from anti-inflammatory herbs before.
Engineered for Long-Term Results
Modern life is designed to ruin your inflammatory response. Unhealthy diets, stress, and lack of sleep all contribute to more symptoms of chronic inflammation than ever before.
InflaTech is precision-engineered formula designed to help your body promote general well-being through a healthy inflammatory response. This unique formula contains everything your body needs to help promote a healthy inflammatory response long past your peak.
If your quality of life has suffered due to inflammation, you'll want to know what's inside from InflaTech:
Meriva SF:

This unique, patented curcumin product that helps regulate your inflammatory response through optimized cytokine production. Since curcumin is poorly absorbed by the body, chronic inflammation supplements flat don't work. That's why we chose Meriva. In one study, Meriva was shown to be 29 times more bioavailable than regular curcumin [1].
Proteolytic Enzyme Blend:

This patented blend of natural anti-inflammatory herbs has been used in Europe in successful anti-inflammatory support supplements. Contains: Protease, bromelain, pancreatin, trypsin, papain, chymotrypsin.
Ginger Root Extract:

Ginger is what will give you long-term joint, muscle, and bone optimization to help fight the root causes of your pains. It has been used for centuries as a natural herbal medicine, but recently science has shown it has remarkable properties for reducing exercise-induced pain [2] and even help promote a healthy gut [3].
Boswelia Serrata:

Shown to help optimize leukotrienes in the body, Boswelia contributes to healthy joints and support a healthy inflammatory response.
White Willow and Cat's Claw Bark:

If you want healthy joints and an optimized inflammatory response, cat's claw and white willow bark are two supplements to add to your regimen. Cat's claw promotes healthy joint function even in people with long-term pain [4] while white willow contains salicin, a natural painkiller in use for centuries in traditional medicine.
References
https://www.ncbi.nlm.nih.gov/pubmed/17974032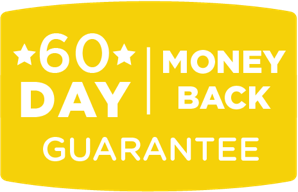 60 Day Money-Back Guarantee